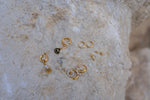 Sieraden zijn een waardevol bezit en het is belangrijk om ze goed te onderhouden en schoon te maken om ervoor te zorgen dat ze lang meegaan en er op hun best uitzien. Hieronder geef ik je enkele tips en trucs om je sieraden op de juiste manier te onderhouden en schoon te maken.
Verwijder je sieraden tijdens het slapen en douchen
Het is belangrijk om je sieraden af te doen voordat je gaat slapen of douchen, omdat de zeep en shampoo de sieraden kunnen beschadigen en de glans kunnen aantasten. Bovendien kan het dragen van sieraden tijdens het slapen of douchen ervoor zorgen dat ze in de knoop raken of verstrikt raken in je haar.
Berg je sieraden op een veilige plek op
Bewaar je sieraden op een veilige en droge plek om beschadiging te voorkomen. Bewaar ze bij voorkeur in een doos of juwelendoos met een zacht kussen of stoffen bekleding om krassen te voorkomen. Je kunt ook overwegen om je sieraden in afzonderlijke zakjes of hoesjes te bewaren om te voorkomen dat ze in de war raken of beschadigd raken door andere sieraden.
Reinig je sieraden regelmatig
Het is belangrijk om je sieraden regelmatig schoon te maken om de glans te behouden en te voorkomen dat vuil en vet zich ophopen. Gebruik een zachte doek of een speciale sieradenreiniger om de sieraden schoon te maken. Vermijd het gebruik van agressieve schoonmaakmiddelen, zoals bleekmiddel of ammoniak, omdat deze de sieraden kunnen beschadigen.
Hoe je je sieraden reinigt, hangt af van het type materiaal waarvan ze zijn gemaakt. Bijvoorbeeld:
Zilveren sieraden: gebruik een zilverpoetsdoek of een zilveren sieradenreiniger om ze schoon te maken. Vermijd het gebruik van water, omdat zilver kan oxideren en verkleuren.

Gouden sieraden: gebruik een zachte doek en een mild reinigingsmiddel om ze schoon te maken. Vermijd het gebruik van schurende middelen die de afwerking kunnen beschadigen.

Parel- en opaaljuwelen: veeg ze voorzichtig schoon met een zachte doek bevochtigd met water en een mild reinigingsmiddel. Vermijd het gebruik van agressieve schoonmaakmiddelen, omdat deze de parels of opalen kunnen beschadigen.
Gebruik geen chemicaliën
Omdat je sieraden enorm beschadigd kunnen worden door agressieve schoonmaakmiddelen, vermijd je het liefst zoveel mogelijk soorten chemicaliën zoals parfum, haarspray, en lotions. Spray bijvoorbeeld eerst je parfum op en doe daarna pas je sieraden om. Daarnaast is het aan te raden om sieraden af te doen voordat je gaat schoonmaken, zodat je sieraden niet in aanraking komen met de schoonmaakmiddelen. 
Het onderhouden en schoonmaken van je sieraden is een belangrijk aspect van het behouden van hun schoonheid en levensduur. Met deze tips kun je vol vertrouwen genieten van je sieraden en er zeker van zijn dat ze altijd hun glans behouden. Mocht je toch nog vragen hebben, dan staat mijn dm altijd open voor vragen! 
Xx Ki
_________________________________________________________________________
Here are some tips on how to properly maintain and clean your jewelry
Jewelry is a valuable asset and it is important to maintain and clean it properly to ensure that it lasts and looks its best. Below I will give you some tips and tricks to properly maintain and clean your jewelry.
Remove your jewelry while sleeping and showering
It is important to take off your jewelry before sleeping or showering because soap and shampoo can damage the jewelry and affect its shine. In addition, wearing jewelry while sleeping or showering can cause it to get tangled or entangled in your hair.
Store your jewelry in a safe place
Keep your jewelry in a safe and dry place to prevent damage. Preferably store them in a box or jewelry box with a soft cushion or fabric lining to prevent scratches. You may also consider keeping your jewelry in separate bags or cases to prevent it from getting tangled or damaged by other jewelry.
Clean your jewelry regularly
It is important to clean your jewelry regularly to maintain its luster and prevent dirt and grease from accumulating. Use a soft cloth or a special jewelry cleaner to clean the jewelry. Avoid using harsh cleaning agents, such as bleach or ammonia, as they can damage the jewelry.
How you clean your jewelry depends on the type of material it is made of. For example:
Silver jewelry: use a silver polishing cloth or silver jewelry cleaner to clean it. Avoid using water, as silver can oxidize and discolor.

Gold jewelry: use a soft cloth and a mild detergent to clean it. Avoid using abrasives that can damage the finish.

Pearl and opal jewelry: wipe them gently with a soft cloth dampened with water and a mild detergent. Avoid using harsh cleaning agents as they may damage the pearls or opals.
Do not use chemicals
Because your jewelry can be greatly damaged by aggressive cleaning agents, it is best to avoid as many types of chemicals as possible such as perfume, hair spray, and lotions. For example, spray on your perfume first and only then put on your jewelry. In addition, it is advisable to take off jewelry before cleaning so that your jewelry does not come into contact with the cleaning agents. 
Maintaining and cleaning your jewelry is an important aspect of maintaining its beauty and longevity. With these tips, you can confidently enjoy your jewelry and ensure that it always retains its luster. If you still have any questions, my dm is always open!