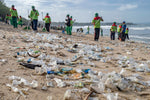 Bali is een prachtig eiland dat bekend staat om zijn witte zandstranden, kristalheldere wateren en weelderige groene bossen. Helaas heeft Bali de laatste jaren te maken met een enorm probleem: plastic vervuiling.
Het plastic probleem in Bali is alarmerend en heeft een verwoestende impact op de ecologie, economie en gezondheid van het eiland. Het is bekend dat Bali jaarlijks ongeveer 3,8 miljoen ton plastic afval produceert, waarvan slechts een klein deel wordt gerecycled of veilig wordt verwijderd.
Een groot deel van dit plastic afval eindigt in de zee, wat een negatief effect heeft op het zeeleven en de visserij-industrie van Bali. Het is niet ongebruikelijk om plastic zakken en flessen te zien drijven op de stranden en in de zee, wat de toeristenervaring op het eiland kan bederven en de reputatie van Bali als toeristische bestemming kan schaden.
Naast de schadelijke effecten op het milieu heeft de plastic vervuiling ook een economische impact op Bali. Het eiland is sterk afhankelijk van het toerisme en de vervuilde stranden en wateren kunnen de toeristenstroom verminderen. Bovendien kunnen de kosten van het opruimen van het afval en het repareren van de schade die het veroorzaakt, een enorme financiële last zijn voor de lokale overheid en de gemeenschap.
Gelukkig zijn er verschillende initiatieven en projecten in gang gezet om het plastic probleem op Bali aan te pakken. Denk bijvoorbeeld aan Trash Hero Bali en Old Man's Canggu, die strandschoonmaakactiviteiten organiseren. Ze houden de activiteit meestal elke zaterdag om 15 of 16 uur, en soms hebben ze een samenwerkingsverband met Ocean Mimic en Eco Living Bali. Als je vrijwilliger wilt zijn, krijg je van hen een gratis biertje, sangria of sapje, en een goodiebag van Eco Living Bali.
Ook probeer ik zelf mijn steentje bij te dragen aan de vermindering van het plasticafval in de natuur van Bali. Zo werk ik samen met Sungai Watch en Ecollabo8 en hebben we al verschillende plastic barrières geplaatst in de rivieren van Bali, om zo de plastic stroom naar de oceaan tegen te houden. Ook gebruik ik recycled plastic, afkomstig van Bali, in mijn sieradenlijn. Op die manier geven we plastic een tweede leven en wordt het niet in deze prachtige natuur gedumpt.  
In de volgende blog zal ik je uitleggen wat jij kunt doen om het plastic probleem in Bali te verminderen. Tot dan!
—----------------------------—----------------------------—----------------------------—----------------------------
Bali is a beautiful island known for its white sandy beaches, crystal clear waters and lush green forests. Unfortunately, in recent years Bali has faced a huge problem: plastic pollution.
Bali's plastic problem is alarming and has a devastating impact on the island's ecology, economy and health. Bali is known to produce about 3.8 million tons of plastic waste annually, of which only a small portion is recycled or disposed of safely.
Much of this plastic waste ends up in the sea, negatively impacting Bali's marine life and fishing industry. It is not uncommon to see plastic bags and bottles floating on the beaches and in the sea, which can spoil the tourist experience on the island and damage Bali's reputation as a tourist destination.
In addition to its harmful effects on the environment, plastic pollution also has an economic impact on Bali. The island relies heavily on tourism, and polluted beaches and waters can reduce tourist flow. Moreover, the cost of cleaning up the waste and repairing the damage it causes can be a huge financial burden on the local government and community.
Fortunately, there are several initiatives and projects underway to address the plastic problem in Bali. For example, consider Trash Hero Bali and Old Man's Canggu, which organize beach cleaning activities. They usually hold the activity every Saturday at 3 or 4 p.m., and sometimes they partner with Ocean Mimic and Eco Living Bali. If you want to volunteer, they give you a free beer, sangria or juice, and a goodie bag from Eco Living Bali.
I also try to do my own part to reduce plastic waste in Bali's nature. For example, I work with Sungai Watch and Ecollabo9, we have already placed several plastic barriers in Bali's rivers, to stop the flow of plastic into the ocean. I also use recycled plastic, sourced from Bali, in my jewelry line. This way we give plastic a second life and it is not dumped in this beautiful nature.  
In the next blog, I will explain to you what you can do to reduce the plastic problem in Bali yourself. See you then!